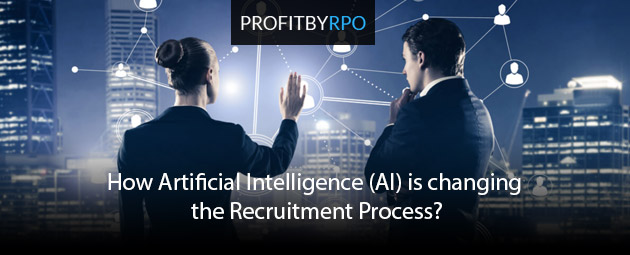 Screening of candidates is one of the most difficult tasks when it comes to talent acquisition. Identifying the right candidates can be a daunting task for the recruiters. Hiring a wrong candidate can cause a loss of energy, time and money. Artificial Intelligence provides a helping hand to recruiters in every step of the recruitment process. AI can easily scan resumes of candidates in a less amount of time than people can and analyze people's expressions and choice of words in a video recording of the interview.
How Artificial Intelligence Can Change Recruitment?
Artificial Intelligence automates repetitive tasks, such as resume screening and pre-qualifying candidates. The software learns about the performance, experience, skills, and other qualities by analyzing candidate's resume.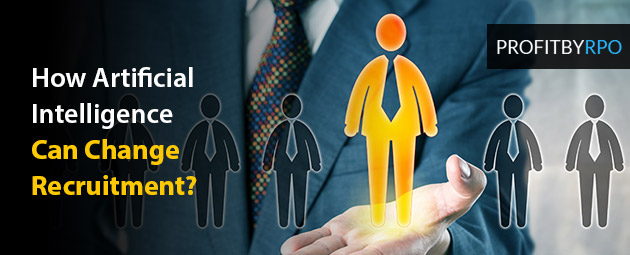 AI helps in identifying the desired candidate profiles from the huge pool of candidates. An artificial intelligence Chatbot asks a series of questions to a candidate based on their job description and also provides them feedback, updates for the next steps. This technology is also used to analyze candidate's word choices, speech patterns, and facial expressions to assess whether a candidate is fit for the role or not.
Benefits of using Artificial Intelligence (AI) in the Recruitment Process: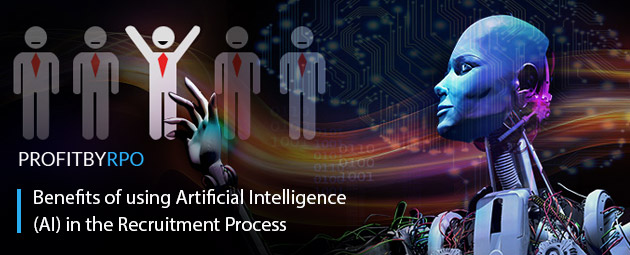 Using artificial intelligence in talent acquisition process has many benefits including:
1. Improving the Quality of Candidates: The quality of candidates you will hire depends on the number of people you initially attract with the job posting. Inability to excite the potential candidates, may lead you to hire semi-qualified candidates. Artificial intelligence also helps recruiters to form descriptive job descriptions, explaining exactly what they are looking for in a candidate.
2. Automate Tedious Manual Tasks: Most recruiters are busy people, and tedious manual tasks like screening, scheduling interviews, etc., is the last thing they might want to deal with. However, these tasks are the part of screening process. That's where artificial intelligence comes in, as it can automate most of these tasks. When used correctly, it can act like a personal assistant to recruiters. By using scheduler and screening software, the mundane tasks can be performed without disturbing a recruiter's schedule.
3. Enhance Candidate Experience: Not only is AI beneficial for recruiters, but, it is also beneficial for candidates. Sometimes, due to busy schedule of recruiters, Candidates do not get the information in regards to their candidature (shortlisting, confirmation, interview and rejection). Here AI can help both recruiter and Candidate to get such valuable information on time so that everyone should be on same page.
4. Reducing Time to Hire: When you want to hire a candidate for a position, you want to fill that position as quickly as possible. AI software can go through hundreds of resumes in minutes where human recruiters can take hours for the same tasks. AI can do the same amount of work more efficiently in lesser time. This technology allows you to move through the process faster without losing quality candidates.
5. Cost-effective: The whole process of hiring a candidate and training them is a costly endeavor. So when hiring employees, you want to make sure you hire the right one. Although pairing your recruitment process with AI comes with additional costs, the software provides a long term ROI. Using the artificial intelligence will reduce your need to hire additional recruiters, interviewers, or employees and also ensures that you hire the right employees. Hiring better employees, you'll reduce cost, save time and efforts.
How is AI impacting your job as a recruiter?
Many people might fear that they might lose their job as a recruiter due to the use of Artificial Intelligence. Despite many steps of the recruitment process being automated, a human decision will still be required. Recruiters will have to learn how to use these technologies to sustain their positions. Focusing on building relationships, utilizing the improvements of AI, and placing yourself in an organization that understands the right balance between the humans and AI, you can build yourself a long and fruitful career as a recruiter.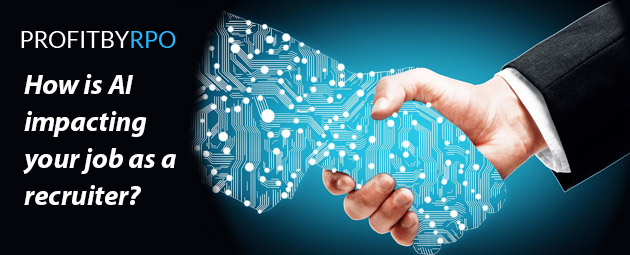 "If recruiters and companies can learn to pair themselves with a specific AI, they can train it to understand a particular corporate mission and culture—so that recruiters feel like they leverage these chatbots and other similar technology as extensions of their teams, not as replacements for them. "
-Dan Finnigan, CEO of Jobvite
If you want to hire the best recruitment outsourcing services, you can partner with Profit by RPO, #1 RPO Company in India, for your talent acquisition needs. The organisation offers various services including Offshore Research Specialist, Offshore Dedicated Recruiter, 24/7 Sourcing, On Demand Recruitment Services, Bench Marketing Services and many more.